What can we give our mothers to express our love and gratitude? 
What's the best Mother's Day gift that your Mom will love and enjoy?
Well, you can buy this Healthy Hands Trio with all-natural ingredients for your Mom to keep her skin nourished and hydrated. But how can you possibly put a price tag on the precious gift of life that your mother gave you? 
I never realized what motherhood truly meant until I became a mother myself for the first time.
I still remember that day when I saw a tiny bundle, and my heart was filled with enormous love. My baby was growing up, and later her siblings came into this world.
I got to learn that being a mother was also full of challenges, worries, and sleepless nights. This made me appreciate my dear Mom even more. I felt deeply sorry for all the troubles, tears, and sadness I caused her. 
We need our mothers at every moment of our life. When my children were born, my Mom was there helping me and teaching me how to take care of them. I couldn't have done it without her by my side. 
I went back to University in my 40's having a teenager and two tiny tots. My mother came over to stay with us. She was cooking homemade meals and doing other chores while I was busy studying. I owe my second University degree to my dear Mom. 
I learned many important life lessons from my mother: 
always work hard,

never complain,

be patient with others,

family matters the most,

help people around you,

give more than you receive. 
I am forever grateful to my Mom for the gift of life, her love, and her eagerness to help!
How can I ever repay her? What is the best Mother's Day gift I could offer? 
Upon thinking, an idea came to my mind. I would love to share it with you. 
What best conveys LOVE than the delicious smell of fresh baking? Sprinkled with natural sweetness and dotted with chocolate chips – yum!
My Mom is a great cook, and she inspired my love for cooking and baking. I thought she and other Moms around the world would love this best Mother's Day gift made with your own hands. 
Here you have it, my friends! Delicious, decadent yet healthy, easy to make. 
Chocolate Chip Peanut Butter Cookies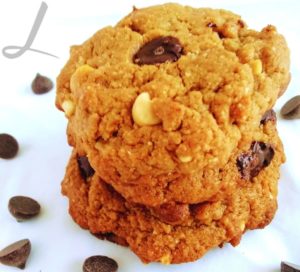 What makes these cookies healthy though? 
Well, the secret is in the ingredients. 
Peanut butter is the main one. It has mixed reviews. Some say you should never it. Others claim it is healthy. So, where does the truth lie? As usual, in the middle. 
Let's start with the good. Peanut butter is a nutritious food, which contains calcium, iron, potassium, a good amount of protein, fiber. It is low in carbs and sugar if you choose a 'no added sugar' type. 
Now, what's bad about peanut butter? The number one concern is saturated fat. However, if you look at the nutrition label, a tablespoon of peanut butter contains only 1 gram of saturated fat, which is only 5% daily value. Good quality peanut butter should also have zero trans fats. 
Another issue is aflatoxins produced by fungi as peanuts grow. However, when peanuts are roasted, up to 90% of these toxins get destroyed. European Union, Canada and the US regulate the levels of aflatoxins in foods, so the peanut butter sold in grocery stores is in no immediate danger. 
The verdict: peanut butter can be part of a healthy diet.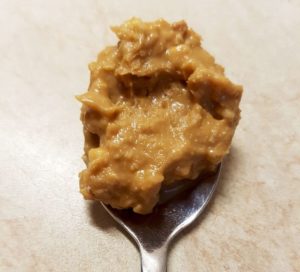 Make sure to choose: 
good quality, all-natural butter, 

without added sugar, salt, artificial flavors, or colors,

zero trans fats,

made from 100% dry roasted peanuts. 
An important tip for making your best Mother's Day gift perfect is to choose non-runny peanut butter. I used a combo of 3/4 cup creamy and 1/4 cup crunchy butter in this recipe. 
If any allergy concerns, you can use non-runny seed butter as a substitute for peanut butter. 
The second main ingredient is coconut flour. It's made from dried, ground coconut meat and is naturally gluten-free. Coconut flour has a soft, light texture. It is low in carbs and has a delicious natural sweetness. Coconut flour is very high in fiber and rich in protein and iron. 
Coconut flour promotes healthy digestion, weight, blood sugar, and cholesterol levels thanks to its high fiber and protein content. It fits both paleo and keto eating styles.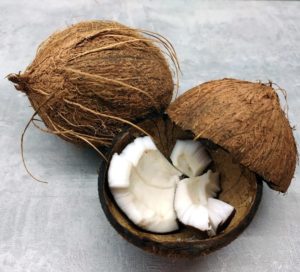 You can make this recipe with an egg, or with an egg substitute if you prefer a vegan option. Simply soak 1 tablespoon of ground flax seeds in 3 tablespoons tepid water for about 30 minutes. Flax seeds are a source of fiber, phytochemicals called lignans, and heart-healthy fats. 
Oat bran is rich in fiber, phosphorus, thiamin, magnesium, and zinc. Beta-glucans in oats have several important health benefits: 
help slow digestion, 

increase the diversity of the gut microbiome, 

increase the sensation of fullness, 

suppress appetite, 

help excrete cholesterol from the body,

reduce damaging effects of chronic inflammation.  
The cookies are sweetened with pure maple syrup. It is rich in manganese, zinc, antioxidants. Pure maple syrup has a low glycemic index, so it will not cause a blood sugar spike. Keep in mind though that it is still an added sugar. So, consume it in moderation.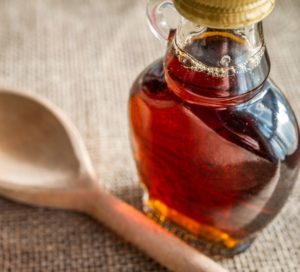 I used organic unsweetened chocolate chips for this recipe. It adds the chocolate-rich flavor, powerful health benefits of cocoa, and zero sugar! 
I'm sure your Mom will appreciate the love and care you put into making this best Mother's Day gift!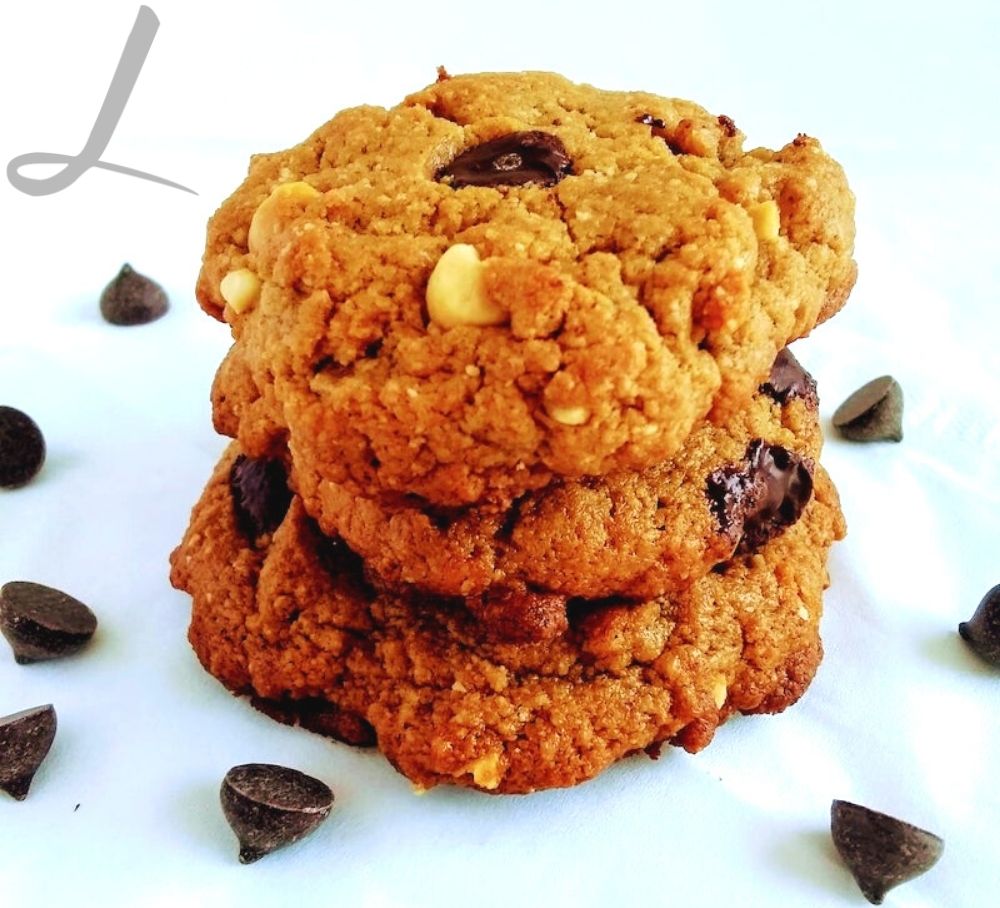 Chocolate Chip Peanut Butter Cookies
Delicious, decadent yet healthy, easy to make. 
Equipment
measuring cups, spoons, mixing bowl, oven
Ingredients
3/4

cup

creamy peanut butter

non-runny, all-natural, made with 100% dry, roasted peanuts

1/4

cup

crunchy peanut butter

all-natural, made with 100% dry, roasted peanuts

1/2

cup

coconut flour

1/4

cup

100% pure maple syrup

3

tbsp

luke-warm water

for soaking

1

tbsp

ground flax seeds

2

tbsp

oat bran

3

tbsp

unsweetened chocolate chips

organic preferred

1

tsp

pure vanilla extract
Instructions
Pre-heat over to 350 degrees F.

In a large mixing bowl, combine creamy and crunchy peanut butters, maple syrup, pure vanilla extract, pre-soaked ground flax seeds and oat bran. Mix well.

Add coconut flour to the mixture, and mix thoroughly to incorporate.

Carefull fold in chocolate chips.

Scoop 1 tbsp of dough, and roll into a ball. Place on a baking sheet covered with parchment paper and flatten with a fork.

Keep a distance of about 0.5 inch between cookies on a baking sheet.

Bake cookies for about 15 minutes. Check after 10-12 min, make sure not to burn the bottom.

Take cookies out of the oven, and let them cool for 10-15 min before eating. Enjoy!

These cookies can be kept at room temperature for up to 5 days (if they last that long :))
Notes
You can use non-runny seed butter as a substitute for peanut butter.
Keep peanut butter or seed butter in the fridge prior to making the recipe. This will help the dough to stick better.
You can use a regular egg instead of a 'flax egg' if you prefer. 
Looking for more healthy dessert/ snack ideas? 
Check out my Mom's Delicious, Easy, Heart-Healthy Muffins Recipe