Are you craving chocolate? Then, you are going to love this homemade chocolate dessert! And here's the best part: it's gluten- and guilt-free!
Some gluten-free baked goods are not that healthy. They are made with flours lacking fiber and other wholesome nutrients.
This chocolate dessert is flour-less, and yet, it's soo good no one will ever know it's not a 'real thing' – shh! don't tell them 🙂
This chocolate dessert is also super-easy to make at home. It's very versatile: you can turn it into a cake or brownies – totally up to you. I made it for my Mom's birthday, and my family enjoyed it much better than a store-bought cake.
But what makes this homemade chocolate dessert healthy?
The secret is in the ingredients. The star vegan and gluten-free ingredient of this recipe – chickpeas – is a nutritional powerhouse!
Chickpeas are:
low-glycemic
moderate in calories
packed with fiber and protein
potassium, magnesium, zinc
iron, folate, vitamins A, E, C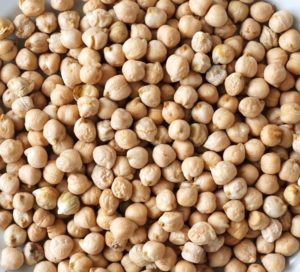 Oranges are probably best known for being a good source of vitamin C. Freshly-squeezed orange juice is full of flavonoid antioxidants that provide anti-inflammatory, antiviral, antimicrobial benefits and may protect your mental health.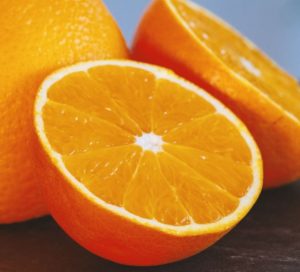 Chicken Egg is an excellent low-calorie source of complete protein, which contains all the essential amino acids. If you want your eggs to come from happy chickens, look for free-range, organic, animal welfare approved. Since this label combines organic feeding with humane handling and living conditions of the hens, you have all the bases covered.

Cocoa is the main reason for the dark chocolate health benefits
People used cocoa beans for medicinal purposes to make foods and beverages due to their healing properties from an early age. Compounds in cocoa called polyphenols are known to have many beneficial effects on heart health, immune and nervous system. A 12-week study of high-flavanol cocoa consumption showed improved skin blood flow and oxygen saturation by 70 – 80%! Cocoa contains 63 times more beneficial polyphenols compared to red wine, not to mention zero alcohol – that's certainly a winner!
This chocolate dessert is made with natural sweeteners
Organic Coconut Sugar is a healthy, great-tasting alternative to white sugar. It has a low glycemic index, which means our body absorbs it at a much slower rate without spikes and drops. Coconut sugar is rich in amino acids, B vitamins, potassium, iron, and zinc. You can use it in baking, caramelize it or grind it into powdered sugar for cake icing. Choosing organic coconut sugar gives you peace of mind that there are no additives or chemicals used in the process of making it.
Raw Honey comes straight from the bee-hive. It's the least processed and has the most antioxidants, minerals, and enzymes. Even though honey is a low glycemic natural sweetener, use it in moderation as part of your daily added sugar intake. Women can eat up to 6 teaspoons of added sugar per day, and men can have up to 9 teaspoons per day.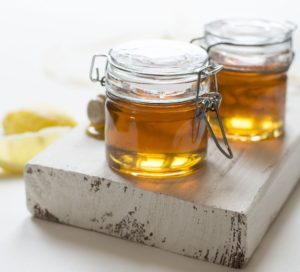 Pecans are rich in mono-unsaturated fatty acids and antioxidants, which is what makes them heart-healthy. They are also high in fiber, protein, vitamin E, and beta-carotene. Pecans are a great source of manganese and copper. These minerals are critical components for the enzymes that your body needs to perform physiological reactions within the cells.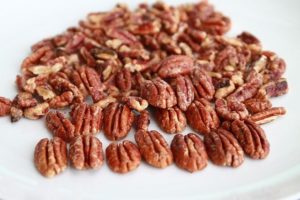 Vanilla extract offers a variety of health benefits including antibacterial and antioxidant properties. The smell of vanilla is soothing and calming to many people, so not surprisingly, it can help improve mood. Vanilla extract contains some potassium and magnesium – minerals essential for muscle and nerve function. And yes, pure vanilla extra does contain 35% – 40% alcohol necessary to extract vanilla from the vanilla beans. But no worries: it's safe to use vanilla extract in a small quantity that this recipe calls for.
This chocolate dessert is so rich, moist, and yummy, which makes it perfect for a special occasion as a chocolate cake or a filling mid-morning snack as a brownie.
Either way, it can satisfy your chocolate cravings, guilt-free.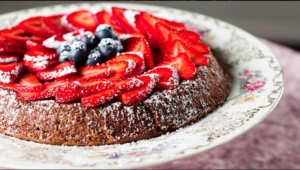 Most people don't get enough fiber from their diet, so this homemade chocolate dessert is also a delicious way to meet your daily fiber needs!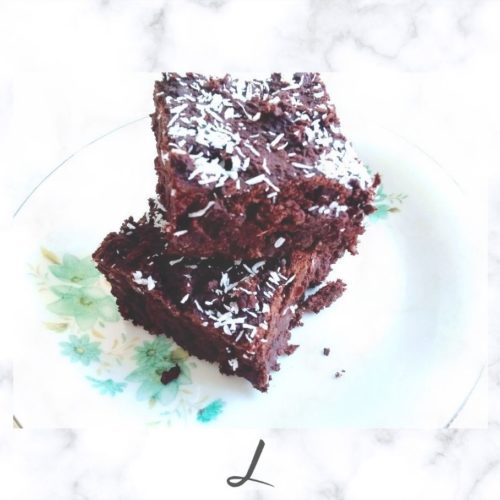 Best Homemade Chocolate Dessert
Makes 1 cake or about 12 brownies
Ingredients
1

can x 19 ounces (560 ml)

chickpeas

drained

4

large eggs at room temperature

free-range, organic

1/3

cup

freshly squeezed orange juice

add some pulp for fiber

2/3

cup

unsweetened cocoa powder

organic preferred

1

cup

pecan halves

divided

1/2

cup

organic coconut sugar + 1 tablespoon for icing

optional

1/2

cup

raw honey

2

teaspoons

baking powder

1

teaspoon

baking soda

1

teaspoon

natural vanilla extract

1

teaspoon

coconut oil

1

cup

mixed fresh berries: strawberries, blueberries, blackberries

2

tablespoons

unsweetened shredded coconut

for decoration, optional
Instructions
Pre-heat oven to 350 degrees F.

In a food processor, chop and mix drained chickpeas and orange juice into a soft, homogeneous mass.

Add the eggs, one-at-a-time, to the mixture and lightly beat.

Add coconut sugar, honey, cocoa powder, baking powder, baking soda, vanilla extract, and pulse until thoroughly mixed.

Use a Ziploc bag and meat tenderizer to crush 1/2 cup of pecans. Leave 1/2 cup pecan halves for decoration.

Carefully fold in crushed pecans to the mixture, and pulse several times in the food processor to incorporate.

Lightly grease an 8 x 8 baking pan with melted coconut oil, and pour the mixture in, spreading it evenly with a rubber spatula.

If you are making a cake, use a 9-inch round cake pan instead.

Bake for about 45 min. Check for doneness with a toothpick after about 35 min to avoid over-drying.

Take out of the oven, and let cool for about 15 min before serving.

If making a chocolate cake, grind 1 tablespoon coconut sugar to powder in a coffee grinder.

Decorate the cake with pecan halves and fresh berries; sprinkle with coconut sugar icing, or with unsweetened shredded coconut.

Enjoy with a cup of your favorite tea!
Notes
larysanutritionpure.com