Salmon
is a good source of healthy protein, potassium, selenium, and omega-3 fatty acids known for their heart health benefits, and may also benefit healthy weight. I try to use wild-caught or organic salmon whenever possible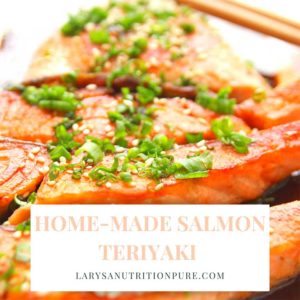 Commercial teriayki sauce can be laden with sugar, salt and preservatives, so it's best to make your own, healthier version.
Ingredients
3 salmon fillets about 100 g each (3 1/2 oz)
1 scallion, a.k.a. green onion, finely chopped
1/2 tablespoon fresh ginger, grated
1 clove garlic, minced
1 1/2 tablespoon Organic Gluten-free Tamari Soy Sauce
1 tablespoon olive oil
1/2 tablespoon freshly squeezed lemon juice
ground pepper to taste
Optional: 2 teaspoons sesame seeds and 1 tablespoon chopped green onion for garnishing
Preparation
Marinate:
1) Put finely chopped scallions and minced garlic in a shallow dish.
2) Add grated ginger, soy sauce, olive oil, lemon juice, and pepper. Whisk using a fork to combine the ingredients.
3) Put the salmon in the dish and turn it to coat with the marinade. Cover and let stand either 30 min at room temperature or overnight in the refrigerator.
Cook:
1) Preheat the oven to 190ºC/375ºF.
2) Remove salmon fillets from the marinade, letting the excess marinade drip off, then transfer them to a baking sheet.
3) Bake on the middle rack of the oven for about 20 min. As an option, the salmon may be cooked on an outdoor grill.
4) Check with a fork to see if the fish is cooked through. Let cool for about 10 min after cooking, and serve with some Tamari sauce garnished with chopped green onion and sesame seeds if desired.