This has been my family's long-time favourite dish.  Every time we have people over who try it, they always ask for the recipe.
So, here it goes – from my family to yours!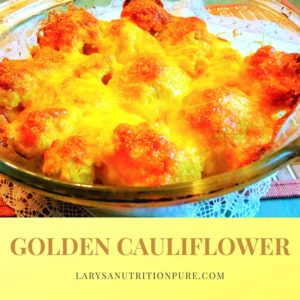 It's super easy to make, delicious, filling and healthy!
Cauliflower contains glucosinolate, which helps your liver to make detoxifing enzymes.
Turmeric, a.k.a. curcuma is what gives the cauliflower its golden colour. It has been used as a spice and medicine for thousands of years due to its anti-oxidant, anti-inflammatory, anti-bacterial, anti-viral and many other health benefits.
Ingredients
1 cauliflower head taken apart into florets
2 tablespoons mayonnaise or Veganaise (I prefer Veganaise)
1/4 cup grated cheese: mozarella, cheddar, marble, gruyere or non-dairy cheese
herbs and spices to taste: I use turmeric, basil, oregano and black pepper
Preparation
1) Pre-heat the oven to 190ºC/375ºF.
2) Place cauliflower florets in a microwave-and oven-proof dish filled with about 1/2 cup water
3) Put in microwave on 'High' power for about 5 – 6 min, or until cauliflower is softened but not soggy
4) Discard water and set the dish aside
5) Prepare the 'sauce': in a bowl, mix mayonnaise, cheese, herbs and spices
6) Generously cover the cauliflower florets with the 'sauce'
7) Bake in the oven for about 25-30 min, or until the top turns golden brown. Take cauliflower out of the oven; let it cool for about 10 min and enjoy while it's still warm.
You can serve it with fresh salads, meats, fish and some healthy grains, such as quinoa or wild rice.